Home » About us » NZVA Awards » 2023 award winners
Veterinary Impact Award 2023
Jackie Benschop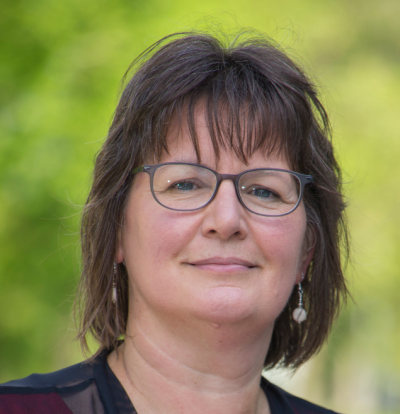 Professor Jackie Benschop PhD, BVSc is a veterinarian and epidemiologist researching disease at the human-animal-environment interface. Jackie is Professor of Veterinary Public Health at the School of Veterinary Science – Tāwharau Ora at Massey University, where she graduated in 1986 with a Bachelor of Veterinary Science with Distinction.
Jackie worked in mixed practice and as a supervising meat veterinarian with the Ministry of Agriculture and Forestry, before moving back to Massey to become a lecturer. In 2007, Jackie gained membership of the Epidemiology Chapter of the Australian and New Zealand College of Veterinary Scientists (ANZCVS), and in 2009 achieved her PhD with a thesis titled Epidemiological investigations of surveillance strategies of zoonotic Salmonella.
Jackie's work focuses particularly on leptospirosis, salmonellosis and campylobacteriosis epidemiology, and antimicrobial resistance (AMR). She uses interdisciplinary research and cutting-edge tools to answer questions about attribution and transmission of infectious disease. Jackie engages with different stakeholders (including rural Māori) to deepen her understanding of community need for research, and to co-create proposals to investigate how to reduce the burden of infectious diseases.
Jackie is the principal investigator on a major Health Research Council of New Zealand (HRC) grant working to reduce the impact of leptospirosis in New Zealand. She has co-founded the African Leptospirosis Network and is a senior committee member on the Global Leptospirosis Environmental Action Network of the World Health Organisation (WHO).
Jackie has published more than 80 journal articles and 120 conference proceedings, and supervised dozens of PhD and Master's students making significant contributions to the field and future of veterinary public health in New Zealand.
Jackie is loyal to the veterinary profession, supportive of her colleagues, and will advocate for those who deserve recognition, making her a worthy recipient of the Veterinary Impact Award for 2023.
Outstanding Service Award 2023
Rose Unsworth
Rose Unsworth has been a member of the NZVA and the Complementary Veterinary Medicine Branch (CVMB) for more than 20 years. During her career, Rose has shown outstanding leadership in all aspects within the veterinary profession, both in New Zealand and around the world. She is always standing up to address and raise awareness about issues within the industry, especially those issues that are hard to talk about.
Rose has been instrumental in the operations and strategy of the CVMB, serving as Treasurer and Secretary. Rose spends countless volunteer hours organising the CVMB's conferencing, managing the corporate sponsors of the newsletter, and regularly contributing to the newsletter as a writer.
Rose has always had a good understanding of the bigger picture, driving insight and support for the valuable role veterinary professionals play in our society and the important contribution that veterinarians have in the One Health model.
Rose has contributed immensely to raising awareness of sustainability issues by always considering the health of our environment. She is a proactive member of SustainaVet, a New Zealand-based organisation of volunteers providing a collaborative depository for resources and ideas to support, encourage and guide our veterinary community to be more environmentally sustainable.
As well as running her own practice in Hawke's Bay and raising a family, Rose has spent recent years locuming around the world, focusing on helping veterinarians in dire situations or charities that need the help of a capable veterinarian. This work is often in remote parts of the world, which comes with challenges that take a special person to navigate.
Rose has been a pioneer in our profession, responsibly integrating complementary therapies to help veterinary patients whose health and wellbeing has not sufficiently improved with conventional veterinary medicine or surgery alone. Rose has always been there to support veterinarians who have the courage to go the extra mile and integrate complementary therapies to improve the health and welfare of veterinary patients.
In her community, Rose volunteers for a variety of charities. She is an upstanding citizen and brings pride to our veterinary profession. It is on this basis that Rose is awarded the Outstanding Service Award for 2023.
Honorary Life Member 2023
Craig Irving
Craig Irving's career started in 1969 after graduating with a Bachelor of Veterinary Science (BVSc) with Distinction. After graduation, Craig worked in a large animal practice before spending a year as a small animal intern at the University of Melbourne animal hospital in Werribee.
Craig gained credentials for the Royal Veterinary College Certificate in ophthalmology before travelling to Australia, the UK and the US to gain experience. After this, he successfully took his Royal Veterinary College examinations.
Craig proceeded to develop his ophthalmology practice with the purchase of necessary specialist equipment. This allowed him to provide an essential and up-to-date service. Inherited eye disease was common, and Craig worked with breed clubs to help eradicate particular conditions by having successful eye clinics around New Zealand. His contribution was immeasurable for the effort and knowledge he provided at the time, and he had a significant effect on improving canine welfare in New Zealand.
Being based in Palmerston North, it was not long before Craig was asked to deliver ophthalmology lectures to students. He was an excellent lecturer who provided extensive notes and had a comprehensive library of slides to illustrate his lectures. Most Massey University veterinary graduates have Craig to thank for their knowledge and skills with eye examinations.
A man with a unique style and charm, despite his infamous and sometimes inappropriate sense of humor, most veterinarians in New Zealand probably have a Craig story to tell. Craig's generous sharing of his professional expertise is legendary.
Throughout Craig's 54 years of service, he has been a stalwart for the veterinary profession, providing exceptional service to the New Zealand Veterinary Association (NZVA) through dedication to his work, to ophthalmology, to teaching, and to raising the bar with professional standards.
Craig has dedicated his life to veterinary science and has been an active and respected member of the profession, which makes him a worthy recipient of an NZVA Honorary Life Membership.
Veterinary Business Excellence Award 2023
Franklin Vets
Franklin Vets is a business with a reputation as a good employer, with excellent support systems, standards and culture. Special care is made to ensure all management decisions align with team values. These values (wellbeing, one team, culture of success, and integrity) were created through collaboration with all staff in 2016.
Franklin Vets believes it is important for veterinarians to have the opportunity to progress into leadership positions. Between 2019 and 2022, a total of 20 employees took part in training delivered by the Lincoln Institute, which specialises in leadership training within the veterinary profession. All those who started the course finished it three years later (including two who took maternity leave during this time).
Wellbeing has been a core practice value since 2016, which has led to a number of initiatives being introduced to support employees and their families and to encourage a work/life balance.
Franklin Vets has a strong focus on the health and safety of its team. Their current focus is reducing animal-inflicted injuries with a practice-wide initiative (Take time to PAWS) in February. This involved two weeks of focused training and workshops for teams, along with education and systems improvements for clients.
In 2019, Franklin Vets set about creating a new shareholding structure to allow for increased ownership within their team. Initiatives have seen Franklin Vets grow from eight (male) shareholders to 21 shareholders (nine female,12 male) who all work in the business - including some who work part time to balance raising a family).
When COVID-19 first hit in 2020, Franklin Vets went to their teams and gave a commitment that their jobs were safe. Additional measures were put in place to ensure staff would not be penalised financially, all while limiting clinic hours and the services offered to keep the team safe.
As one of the first clinics in the country to have an NZVA BESTPRACTICE accredited clinic, Franklin Vets continues to show leadership with four of their clinics now accredited and another three in the process of gaining accreditation.
Success in business requires high performance in incredibly wide-ranging areas. The people-based initiatives Franklin Vets has implemented embodies sustainable business excellence in the current environment and makes them worthy recipients of the Business Excellence Award in 2023.
Environmental Sustainability Award 2023
South Wairarapa Veterinary Services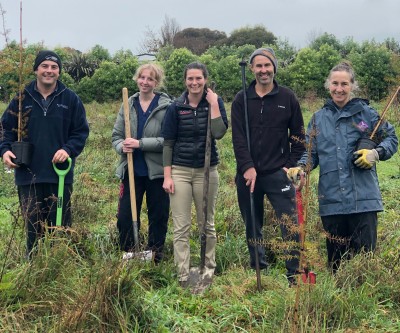 South Wairarapa Veterinary Services (SWVS) is a business with four clinics at the forefront of veterinary sustainability in New Zealand. In just three years, Dr Jane Ough and Dr Richard Kirton – supported by the Board of Directors, their staff and supplier companies – have become leaders in the sustainability space with the goal of becoming the first carbon neutral veterinary business in New Zealand.
In 2021, SWVS engaged Ekos, a New Zealand not for profit organisation, to calculate its carbon emissions including staff commuting. Ekos found that 91% of the practice's emissions were from vehicles. This spurred SWVS to work on lowering carbon emissions, implementing numerous climate actions over the past two years. These include:
forming a Climate Action Group within the business
embedding sustainable decision making in all levels of the business
establishing an annual staff and stakeholder tree planting day which resulted in 1,000 native trees being planted in 2022 and a whopping 5,000 in 2023
transitioning its fleet of 14 utes to low carbon vehicles, with a plan to complete this by 2028
surveying staff to find barriers to low carbon transport to work and implementing change based on these findings
instigating an annual summer low carbon to work challenge – staff cycled 2000kms this summer and five staff now cycle regularly.
working with local council to encourage safer cycling routes for commuters
working with suppliers to request they take responsibility for their packaging and offer sustainably produced products
stocking and promoting low carbon footprint products
supporting a local business to develop a range of climate friendly pet toys, using locally made fully compostable NZ wool and possum materials
creating a clinic greenspace for staff to enjoy which includes a staff vegetable garden
working with Sustainavet NZ and Vets for Climate Action (Australia) to build momentum for positive change.
The 2030 Agenda for Sustainable Development adopted by all United Nations Member States in 2015 includes 17 Sustainable Development Goals (SDGs), which are an urgent call for action by all countries. SWVS are already ticking seven of them off – no mean feat when we consider the COVID-19 pandemic, veterinary staff shortages and ongoing economic strictures!
In 2022, the NZVA appointed Jane in a voluntary role of Climate Change Ambassador. Jane is a senior companion animal veterinarian and completed a diploma in Environment and Sustainability through Open Polytechnic in 2010. In her role as Climate Change Ambassador, Jane supports and mentors members, clinics and NZVA office staff to reduce carbon emissions and implement sustainable practices in their workplaces.
SWVS plan to commit an annual budget to climate crisis action and have several carbon-lowering projects in the pipeline.
The incredible contributions that SWVS are making in the sustainability space through their clinics, staff and Board of Directors, amply illustrate and support the reasons why they are worthy recipients of the Environmental Sustainability Award for 2023.
Pictured: The SWVS Climate Crisis Action Group planting Totora in the SWVS clinic green space (L-R: Dan Green, Sam Cook, Sam Perko, Richard Kirton, Jane Ough).