Home » About us » NZVA Awards » 2020 award winners
President's Award 2020
Alexander Walker BVSc MACVSc
Alex graduated with distinction in 1978 from Massey University. In 1981 he was accepted for a residency in a small animal surgery at the University of Missouri at Columba (UMC). Alex spent two and a half years at UMC, where he received the Graduate Student Teaching Award. In 1984, he started a veterinary referral practice. Alex gained his MACVSc in 1985. In 1998 he became registered as a specialist in small animal surgery. In 1999, Alex was made an Adjunct Lecturer in Surgery at Massey University.
In 2000, along with two other veterinary specialists, Alex founded Veterinary Specialist Group (VSG) in Auckland, becoming the first stand only veterinary specialist referral practice in New Zealand. Several veterinarians have given testament to internships they had with the Veterinary Specialist Group. They describe it as an excellent bridge from veterinary school to practice — and a great programme for veterinarians to pursue specialisation or to become an exceptional general practitioner. The internship provided many students a way to build skills as a competent veterinarian, as there was a busy and diverse caseload, fantastic support, mentorship, emergency work and an awesome team to work with.
In 2003 he became President of the Surgery Chapter of the Australian College of Veterinary Surgeons. Alex became an Honorary Research Associate in the School of Natural Sciences at Unitec in 2006. He was awarded the New Zealand Veterinary Association – Companion Animal Society Annual Service Award in 2006.
Alex has a special interest in applying new surgical techniques in veterinary practice in a New Zealand setting. He is also dedicated to advancing the veterinary profession in New Zealand and creating a path for New Zealand graduates to achieve specialist training and qualifications. In 1990, he and Dr Steve Fox introduced canine total hip replacement to New Zealand.
Over the last 30 years, Alex has authored and co-authoured the publication of many papers in national, international journals and proceedings.
Alex is passionate about continuing education for New Zealand veterinarians and has made presentations at national and international conferences regularly since 1984. He has been lauded as having a gift for consolidating knowledge and teaching other veterinarians in a practical and effective manner.
Alex is known as an extremely skilled and caring surgeon, who gave his best in every surgery and situation and expected all around him to do the same. He demonstrated a commitment to excellence and inspired others to push themselves, have sound ethics, and achieve their best.
His students give testament to his incredible knowledge and gift for teaching. He taught students to think ahead, prepare for surgeries, read and research effectively, do thorough physical examinations, monitor the patient throughout their stay in hospital, check the positioning for surgery, check equipment, think about what to do if things went wrong and more.
Honorary Life Membership 2020
Jim Edwards ONZM, B.V.Sc., Dip.Bus.Studs.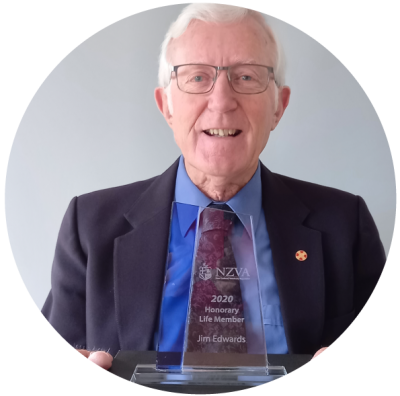 During his distinguished career, Jim has made a significant and constant contribution to the NZVA, the veterinary profession in New Zealand and internationally and to New Zealand's primary industries and biosecurity.
After graduation from Massey University with a BVSc in 1972, Jim worked in clinical practice in the North Island for the next 14 years, gaining excellent experience in extensive sheep and cattle farms, dairy farming, deer, pigs and horses. An important component was the clinical work involving working dogs. He took some time out of clinical practice in 1979-80 to fill the role of National Secretary and Technical Adviser to the New Zealand Romney Sheep Breeders Association, where he developed his skills in lobbying Government.
In 1986, Jim left clinical practice and moved into regulatory practice, working for the Ministry of Agriculture and Forestry (MAF) as a Veterinary Officer in New Plymouth and then Palmerston North. Jim managed animal health and welfare for each of these two regions. During this time, Jim led the MAF supervision of quarantine of new breeds of sheep into New Zealand. He then became the National Advisor Animal Exports, then Manager International Animal Trade, MAF Biosecurity Authority, Wellington from 1990-2001. He also completed a Diploma in Business Studies in 1990.
Jim headed the development of export certification through negotiation with the quarantine agencies of foreign governments. He then became leader of the whole section, which included both exports and the development of import health standards used to manage disease risks during the importation of animals and animal products into New Zealand.
In 2001, Jim moved into a role as Special Adviser for the MAF Biosecurity Authority, doing eleven projects on importation policy, the control of animal diseases, operational research, and animal welfare. In 2002, Jim set up his own international veterinary consulting company, World Veterinary Consultants Ltd, of which he remains the Managing Director.
Jim also currently holds the following positions:
Independent Chairman, Welfare Committee, New Zealand Greyhound Racing Association
Chairperson, Animal Trade Advisory Council
Lecturer Food Safety in 280.105 Quality Assurance for the Meat Industry, Diploma of Meat Technology, Massey University
Tour leader for CR McPhail Agricultural, technical, and business tours to and from New Zealand.
Throughout his career, Jim has been a committed supporter of the veterinary profession and of the NZVA. He has served in various leadership roles in NZVA branches over 30 years. Jim received the NZVA outstanding service award in 2002.
In addition, Jim has made other contributions at a national level, including:
Ministerial Appointee to the Veterinary Council of New Zealand, 2003 – 2012 (9 years)
Teaching animal welfare to slaughter plant staff in New Zealand, 2010 – onwards
Leading the successful development and implementation of import health standards and export certification by the International Animal Trade section of the New Zealand Ministry of Agriculture from 1995 - 2001. These standards and certificates are used by the Ministry to manage the disease risks associated with the import and export of animals and animal products.
A leading role in the international market access negotiations for exports of bees and the development of import health standards.
Leading the review and redevelopment of standards for the export of sheep by sea during the early 1990s which led to a much improved and acceptable performance.
Successfully managing the supervision of a major sheep importation project on behalf of the New Zealand Ministry of Agriculture which concluded with the release of significant new breeds into the New Zealand sheep population gene pool.
Co-leader in the development of Part 3 Animal Exports, in the Animal Welfare Act 1999. This world leading legislation provided the avenue to control the welfare in animal exports. This is of particular importance to New Zealand because of the long distances animals are exported and because of our reliance on the export trade for national income and the good reputation needed to maintain market access.
Jim has also been very active on the international stage, being in leadership roles in the World Veterinary Association and the Federation of Asian Veterinary Associations.
Jim received the World Veterinary Epidemiology Society James H. Steele Award in 2002. He was appointed an Officer of the New Zealand Order of Merit (ONZM) in the New Year's Honours for 2010, for services to the Veterinary Profession and to the Community.
Veterinary Impact Award 2020
Liza Schneider BVSC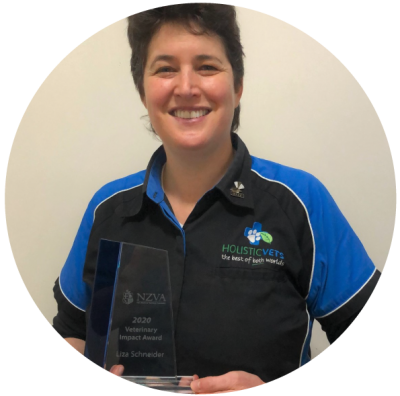 Liza's core values and underlying principles are utter regard for the sanctity of animals and people. Her compassion is widely recognised, alongside her strong sustainable business principles.
In 2003 Dr Schneider established Holistic Vets, Tauranga. It was the first of its kind in New Zealand and has gone on to win several prestigious awards since its inception.
She is also the founding trustee of Animal Rescue and Rehabilitation Centre (ARRC) Wildlife Trust, a charitable trust providing veterinary care and services to rehabilitate wildlife. Its mission is clear: "Leading by example and through education we assist our wildlife, helping to cultivate an attitude of respect and responsibility towards our animal co- inhabitants as well as our natural heritage''.
As part of her work with ARRC, Liza was instrumental in the production of a series of books based on real life cases, designed to help children understand why the environment is an increasingly dangerous place for wildlife and teach them how to prevent or reduce injury to native birds and wildlife.
Liza has presented papers at both NZVA and AVA conferences. Liza is a great educator. She has provided educational support and material through the Massey University Student Club, held pet education seminars, written educational children's' books and starred in local TV productions involving the public in getting to know and understand the critical role veterinarians play in promoting health and wellbeing of both pets and their owners.
As President of the Complementary Veterinary Medicine Branch SIB for ten years, she has provided leadership, guidance and support for her colleagues, the public, businesses and veterinary students.
Her business and personal awards illustrate her ability to highlight the role of veterinarians in their local community and the business world. Her awards include:
2014 New Zealander of the Year Awards Innovator of the Year Certificate of Achievement
2014 Trustpower Community Awards Heritage and Environment Category Runner-up (ARRC Wildlife Trust)
2013 Kiwibank local hero award
2013 Winner of the Young Read Woudberg Young Business Owner of the Year Award
2013 Finalist in the Westpac Tauranga Business awards Community Organisation Category (ARRC Wildlife Trust)
2010 Winner of the Tauranga Trustpower Community Services Environment & Heritage Award (ARRC Wildlife Trust)
2009 Finalists in 3 categories of the David Awards (celebrating heroes in small business) Most Community- Minded Business, Most Innovative Business and Most Outstanding Triumph over Adversity (Holistic Vets)