BESTPRACTICE members
Become BESTPRACTICE® accredited
Home » For the public » BESTPRACTICE accreditation programme » BESTPRACTICE members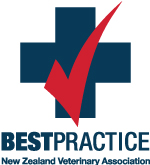 By gaining BESTPRACTICE® accreditation you are demonstrating to your clients that you believe in the quality of all aspects of your veterinary clinic or hospital.
The New Zealand Veterinary Associations BESTPRACTICE® accreditation programme was set up to promote and maintain the highest standards of veterinary practice in New Zealand.
The standards cover a wide range of aspects of veterinary care – surgical and medical standards, nursing care, diagnostics, safety procedures, facilities, equipment, professional development and training.
Clinics can seek accreditation as a veterinary hospital, or as a clinic – in companion animal medicine, large animal medicine, or as a mixed practice. Accredited clinics are audited every two years to ensure the maintenance of the programme's quality service standards.
We help you keep up-to-date
Veterinarians operate in a very controlled legal and ethical environment, which is becoming increasingly complicated. With the pace of changes being introduced - such as health and safety requirements, veterinary registration and continuing professional development obligations of the Veterinary Council of New Zealand. It can be challenging for individual clinics or hospitals to keep up-to-date.
The BESTPRACTICE committee (which provides governance for the programme) liaises with various regulatory authorities - researching, negotiating and clarifying details to produce a set of standards that meet their requirements and that are easy for you to understand and implement.
Want to become BESTPRACTICE® accredited?
Send the team an email at bestpractice@vets.org.nz or call 04 471 0484.
BESTPRACTICE® Standards
These standards are compulsory until the end of 2023.
Last edited Nov 15, 2021, 11:25 AM
1.1 MB
Last edited Nov 15, 2021, 11:25 AM
1004 KB
Last edited Nov 15, 2021, 11:25 AM
1.1 MB
BESTPRACTICE® Standards (from January 2024)
These standards are compulsory from January 2024 and optional until the end of 2023.