About us
Join the NZVA
For veterinary professionals
For the public
Jobs & classifieds
Contact us
Centenary
1964/65 Reunion
Last month, a reunion of the veterinary students' intake of 1964 and 1965 took place. The reunion was held in Dunedin, the wildlife capital of New Zealand, and the programme reflected this with visits to the albatross colony at Taiaroa Head on the peninsular and the Orokonui eco-sanctuary further inland.
This group have held reunions previously which are always well attended, the 2021 reunion being no exception! 27 veterinarians and partners were in attendance, including the first two female veterinary students at Massey, Cheryll Bell (nee Knox) and Jan Fogg.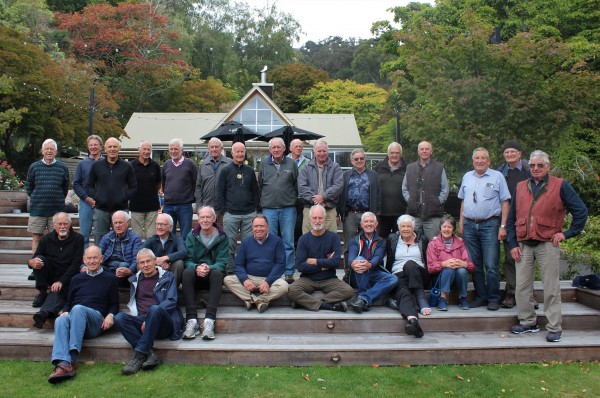 Attendees at the 1964/65 reunion, pictured above.
Back row left to right: Don Ensor, Alan Alexander, Stu Cameron (Organiser), Adrian Rhodes, Mike Whatman (UK), Daryl Marshall, Mike Scanlan, John O'Flaherty, Alan Brown, Neal Hawes, Hugh Davies, Tony Bewick, Geoff Davidson, Peter Williams (Organiser), Alan Robinson.
Middle row left to right: Chips Jones, Ken Cottier, Joe Mayhew, Gary Horner, Corin Murfitt, Tim Barraud (USA), Alan Bell, Cheryll Bell, Jan Fogg.
Front row left to right: Alister Johnstone, Bill Glassey, Morgan Hewland (Organiser) standing at right.
CONTACT
The New Zealand Veterinary Association
Level 2, 44 Victoria Street
Wellington 6142, New Zealand
Postal address:
PO Box 11212
Wellington 6142, New Zealand

E nzva@vets.org.nz | P +64 4 471 0484
F +64 4 471 0494
© Copyright 2019 The New Zealand Veterinary Association. All rights reserved.