Home » For veterinary professionals » Education & events » Dairy cattle
Dairy cattle
Dairy cattle form an important component of any large animal veterinarian's case load as well as contributing significantly to the nation's economy.
Like all areas of veterinary practice, expertise in the dairy cattle sector is always changing and adapting as new scientific studies are undertaken.
The NZVA have created a selection of courses which will be of value to dairy cattle veterinarians at different stages of their career. You can select from one of the NZVA courses listed below to update, improve or extend your dairy cattle practice or check out our CPD calendar to view an extensive selection of CPD offered by other providers.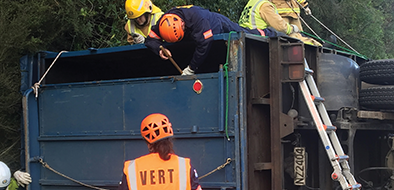 Technical emergency large animal rescue
Be confident in providing safety and welfare-oriented approaches to animal recovery
Tutors: Chris Riley | Hayley Squance | Patrice Palleson-Putt
Self-directed course
Read more information on technical emergency large animal rescue here!
2022 NZVA Conference
Featuring dairy cattle, companion animal, equine, sheep and beef cattle, deer, epidemiology, food safety, animal welfare, biosecurity, complementary medicine, veterinary business
Dates: 20-22 June | Location: Claudelands Event Centre, Hamilton
Consulting skills for rural professionals
Improve your ability to engage with farmers to improve their farms
Online material: 27 June - 5 August 2022 | Assessment due: 19 August 2022
Workshop one: 30 August 2022 | Workshop two: 13 September 2022
Tutors: Lab Wilson | Graeme Dixon
Read more information on consulting skills for rural professionalshere!
The Webinar Vet: Learn anytime, anywhere
The NZVA has partnered with The Webinar Vet to offer the New Zealand veterinary profession exclusive memberships tailored to the New Zealand environment.
Join the largest online veterinary community in the world.
1,500+ webinars | 1,000+ expert speakers
Read more information, and have a look at membership prices here!
Wellbeing and resilience for the veterinary profession
Fundamental skills required to thrive in the complex veterinary environment.
Start online course now!
Free for NZVA members | $100 for non-members
Tutor: Belinda Noyes
Read more information and register for wellbeing and resilience for the veterinary profession here
Professional skills for veterinary teams
Learn techniques that promote team and workplace effectiveness, and develop your own workplace wellness plan.
Start online course now!
Free for NZVA members | $400 for non-members
Tutor: Michael Meehan
Read more information and register for professional skills for veterinary teams here!
Externally provided NZVA Accredited CPD
To help veterinarians identify high quality CPD, the NZVA, in consultation with the Veterinary Council of New Zealand (VCNZ), has implemented an accreditation "tick" for CPD activities.
Listed below are CPD activities that meet the requirements for NZVA CPD accreditation and are provided by organisations external to the NZVA. Please contact the individual providers for specific information about each CPD activity.
For more information about NZVA CPD accreditation please visit the NZVA CPD accreditation application page.
Massey University's Master of Veterinary Medicine (MVM) programme provides high-quality continuing education for practicing veterinarians, delivered by distance learning.
Click here to view the 2022 courses they have on offer, and for more information