VetsOne - Companion Animal Veterinarian - Hastings
Classifieds
Posted in: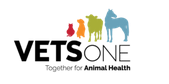 Organisation/clinic: VetsOne Hastings
Location: Hastings
Position type: Companion Animal Veterinarian
VetsOne Hastings is a busy, well-established mixed practice veterinary clinic, that is independently owned and operated in Hastings, Hawke's Bay. We have been providing veterinary care to the Hawke's Bay region for over 70 years. Our owners work alongside our staff and are friendly and approachable. We have Gold Standard Cat Friendly Accreditation with fear free handling as a priority. We work with our local SPCA, making shelter visits and are involved in their de-sexing campaigns. We have an I131 Radioactive Iodine Unit for the treatment of hyperthyroid felines. Our team is passionate in providing excellent care to our clients and their pets, are dedicated and love to have some fun.
We are seeking a passionate companion animal veterinarian to join our current team of experienced veterinarians. You will be at the forefront of providing exceptional care and advice to our clients and their much loved pets. Any given day will vary and could include consultations, diagnostics, surgery, dentals, hospital treatment and emergency care. Full-time is preferred, and we are prepared and committed to nurturing a new graduate should they be the right fit for our team.
What we can bring to you
Work in a modern, spacious and well-resourced clinic with all the toys.
A practice with a supportive and collaborative team of veterinarians who will support you in your personal and professional growth, with plenty of opportunity for professional development.
Competitive remuneration as we value your skills and dedication.
Flexibility for personal appointments during work hours.
Be part of our VetsOne family, who are a fun and caring team.
Social occasions such as bowling, quiz nights or a Friday get together.
Significant discounts on products and services.
Southern Cross health insurance.
And our clinic cat, Mr Pumpernickle, who is a great support to our staff.
What you can bring to us
Be empathetic and have a friendly, cheerful, 'can do' personality.
A genuine passion for caring for pets and providing best possible care to our patients and our clients.
Approachable with excellent communication skills with both clients and colleagues.
Have great teamwork skills.
Keen to progress their career through continuing education and peer support.
Experience is preferred but not essential, so applicants at all levels are welcome to apply.
If you feel this role is right for you and you would like to join our team, please send your application, including a cover letter and resume to: amanda@vetsone.co.nz