Vetora Te Awamutu - Large Animal Veterinarian - Te Awamutu
Classifieds
Posted in: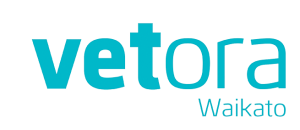 Organisation/clinic: Vetora Te Awamutu
Location: Te Awamutu
Position type: Large Animal Veterinarian
The vacancy:
Large Animal Veterinarian at our large, modern Vetora Te Awamutu clinic. You will need to be a Dairy focused Veterinarian with a minimum of three years' experience. An exceptional team spirit and collaborative attitude is a must, as you will be working as part of a high performing team to provide the best veterinary service for our farming clients.
We offer:
A comprehensive remuneration and benefits package and we believe in having a great work life balance. We are winners of the Employee Development Award from Primary Industries Good Employer Awards 2021.
Outstanding salary package, CPD, excellent after-hours allowances.
Free VCNZ and NZVA fees, medical insurance, professional liability insurance.
½ day off per full week worked for after-hours rostered veterinarians.
Well resourced clinic with supportive team culture.
Mobile phone and work vehicle.
Fun extras - Birthday recognised ($100 cash, birthday cake to share with colleagues), lunch on us once a month in clinic, bonus schemes and incentives.
About us:
Providing world class animal health services in rural communities, Vetora Waikato is a progressive, farmer owned veterinary club providing Vet services to the Waikato for over 75 years. With Vetora clinics in Te Awamutu, Hamilton, Otorohanga, Cambridge, Putaruru, and Tokoroa & Districts Veterinary Services and Taupo Vet Centre, we offer a comprehensive range of veterinary products and services throughout the greater Waikato region.
If you would like to have a confidential chat, or to discuss the role further, please feel free to call Jo Bard (Clinic Manager) on 021 1275 5453.
We look forward to hearing from you.

Company
Vetora Waikato
Contact Name
Jo Bard, Clinic Manager
Contact Details
M | 021 1275 5453