Vetora Waikato - Companion/Mixed Animal Veterinarian - Tokoroa/Putāruru
Classifieds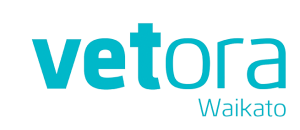 Organisation/clinic: Vetora Waikato
Location: Tokoroa/Putāruru
Position type: Companion/Mixed Animal Veterinarian
Vetora Waikato is a progressive, farmer owned veterinary club providing services to the Waikato for over 75 years. With eight clinics across the Waikato, Vetora has an innovative client-focused culture, specialising in providing members and clients with access to the best practical and technical expertise.
We are after a Small Animal or Mixed Animal (with a strong interest in smallies) Veterinarian in our Tokoroa and Putāruru clinics. Our teams are client focused, value driven professionals who are dedicated and love to have fun. Our clinics are well resourced and give plenty of opportunities for professional development. We offer comprehensive remuneration and believe in a good work-life balance (options for part-time veterinarians available). Perfect for those who love the outdoor life – these locations have great access to beaches, mountains, cities, and lakes.
We're motivated to fill these positions, with relocation packages available. Check our https://www.vetora.co.nz/careers for more details.
Contact: Marian Conder at hr@vetora.nz